To all visitors: Kalvos & Damian is now a historical site reflecting nonpop
from 1995-2005. No updates have been made since a special program in 2015.


Chronicle of the NonPop Revolution
---
Composer Profiles
---
Gilles Yves Bonneau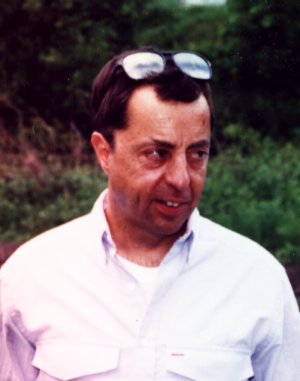 Gilles Yves Bonneau
Listen to this show


---
Gilles Yves Bonneau
Click here

for Interview in RealAudio3 format. 1:16, 149K. (
RA2/14.4 version
)
Click here

for RealAudio version of Conclusion of
Trio Sonata, Op. 39, No. 4
, 0:59/59K.
Click here

for TrueSpeech version of
Trio Sonata
, 61K.
Click here

for MPEG-2 version of
Frülingschrei!
, 2:47/653K.
Click here

for Midi version of
Trio Sonata
, 2:54/14K.
New!
Click here
for Gilles Yves Bonneau's Catalog of Music!
---
Gilles Yves Bonneau died on Christmas Day, 2002. We deeply feel his loss.
---
Gilles Yves Bonneau was born in St. Jean, Québec in 1941, has lived in several countries, and is now a U.S. citizen. Careers for survival income have been numerous (from administrator to laborer), with the consistent focus on composition. Musical studies were pursued in Montréal, Vermont, and Boston's New England Conservatory. To date, he has written some 170 pieces, in many combinations and styles, the body for chamber ensembles and soloists, including also two symphonies and a cantata of epic proportions. Major features of his work are Bach-like counterpoint and French-influenced lyricism, in delicate intimacy and intricacy. He has served as Treasurer and Director of the Consortium of Vermont Composers. Some of his music has reached New Orleans, Seattle, Tokyo, and Europe. He lives in Seattle. His music is published by Westleaf Edition. The composer says that one of his greatest goals is the universal sharing, understanding, and growth from his works.
---
Representative musical compositions:
Sérénade, Op. 27, 1982. For double bass and harp. 15 minutes.
Symphonie No. 1, Op. 29, 1980. For orchestra, plus 3 saxophones and oboe d'amore. 30 minutes.
Sonate No. 2, Op. 32, No. 2, 1982. For violin and piano. 10 minutes.
Spirituals, Op. 33, 1986. For brass trio. 15 minutes.
Suite Slave, Op. 34, No. 1, 1985. For oboe and bassoon. 15 minutes.
Cantata, Op. 35, 1995, on the poem "Timesweep" by Carl Sandburg. For SATB chorus, SATB soloists, organ and orchestra. 6 hours.
Utzenstorfersonatensatz, Op. 36, No. 1, 1986. For bass flute and harp (or guitar). 15 minutes.
Variations and Toccata on "Yankee Doodle", Op. 36, No. 6, 1990. For organ. 25 minutes.
Seaward..., Op. 39, No. 2, 1992, on the text by Celia Thaxter. For tenor, bassoon, and piano. 10 minutes.
Sonate Trio, Op. 39, No. 4, 1994. For clarinet, viola, and piano. 15 minutes.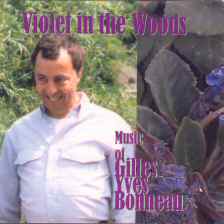 Violet in the Woods
---