---

The AmsterDramm Project
---
---
To the AmsterDramm Schedule, Bios & Pix
To the crucial AmsterDramm Funding Request

---

This link to the AmsterDramm cybercast is closed. It now plays regular WGDR programming (plus -- of course! -- Kalvos & Damian on Saturdays at 1830 GMT / 2:30pm EDT / 11:30am PDT).
---
Kanner Internet / 28.8 stream

This link connected to the AmsterDramm cybercast via Kanner Internet. It is now closed.
---

This link connected to the VuurWerk cybercast page for AmsterDramm. It now points to VuurWerk's home page.
---
Preview Features!
---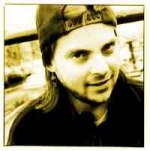 The AmsterDramm Project was a live simulcast (radio and Internet) of Kalvos & Damian's New Music Bazaar in an interview with composer David Dramm, along with a live concert of his music, on September 12, 1998. The concert was from STEIM's concert hall in Amsterdam as a finale to the annual Gaudeamus Music Week.
The five-hour program (1830 to 2200 GMT) was cybercast in the United States on WGDR-FM in Plainfield, Vermont, and simulcast from its RealAudio server, with a West Coast mirror provided by Jesse Kanner Internet. In the Netherlands, the concert will receive delayed broadcast in Amsterdam and had immediate cybercast by VuurWerk Internet, who provided the main feed to the United States.
David 'Damian' Gunn anchored the U.S. side of the interview from the WGDR studios, and Dennis 'Kalvos' Báthory-Kitsz was in Amsterdam at STEIM. The live interview welcomed composer luminaries from the Netherlands.
This was one of the first broadcast/cybercasts of an extended live exchange via an Internet connection worldwide, and the most technically successful. Kalvos & Damian's New Music Bazaar is proud to present it as the first in its series of live concert cybercasts.
---
in cooperation with
USA - East
USA - West
The Netherlands
The AmsterDramm Project is funded by
DoDaDa Idea Co.
Several anonymous contributors
---
Kalvos & Damian's Advisory Board
---
The AmsterDramm Project with Kalvos & Damian
AmsterDramm Production
Host in Amsterdam:
Dennis Báthory-Kitsz
Host in Vermont:
David Gunn
Engineer at STEIM:
Paul Jeukendrup
For VuurWerk Internet, Haarlem:
Arjen van Drie
For Kanner Internet, California:
Jesse Kanner
Production and Support at WGDR
Stu Bautz
Brad Baudet
Bert Klunder
Phil Schutt
Ravi Nielsen
Assistance in Vermont was provided by
Assistance at STEIM was provided by
Particpating artists in order of appearance
David Dramm
Anne La Berge
Jacqueline Oskamp
Huib Emmer
Louis Andriessen
Ruth Dreier
Philip Mechanicus
Tomoko Mukaiyama
Nick Didkovsky
Keven Whitehead
Frances-Marie Uitti
Clarence Barlow
---