To all visitors: Kalvos & Damian is now a historical site reflecting nonpop
from 1995-2005. No updates have been made since a special program in 2015.


Chronicle of the NonPop Revolution
---
Composer Profiles
---
Allen Shawn
Allen Shawn
---
Listen to this show


---
Allen Shawn
---
Allen Shawn began writing music at the age of ten. After earning a BA from Harvard, he studied composition in Paris with the legendary Nadia Boulanger, receiving his MS in music from Columbia University. From 1972-85 his various jobs in New York included a stint as pianist in pit orchestras on Broadway. In 1995 he received the Goddard Lieberson Fellowship for composers from the American Academy of Arts and Letters. Currently teaching composition at Bennington College in Vermont, Shawn has written nine orchestral works, two operas with his brother, playwright Wallace Shawn, much incidental music for theater (including scores for the New York Shakespeare Festival, La Jolla Playhouse and Lincoln Center Theater), the film score for My Dinner With André, and commissioned works for Atlanta Ballet, Lucinda Childs Ballet, Greenwich Symphony, Vermont Symphony, Sage City Symphony, Aspen Wind Quintet, clarinetist Benny Goodman, and many other organizations and ensembles. His music is recorded by Northeastern Records, Bay Cities Records, Albany Records, Opus One, and others.
Allen Shawn makes a point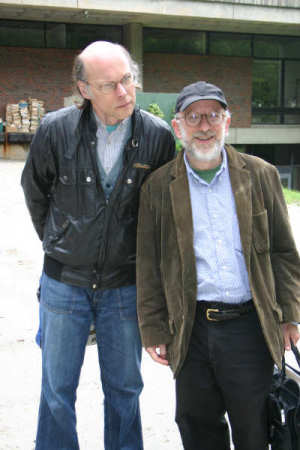 Damian with Allen Shawn
---
---
To reach the composer:
On-line: Contact K&D
By telephone/fax:
By physical mail:
---