---
Beth Anderson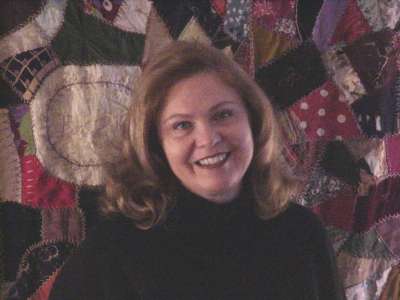 Beth Anderson
Biography
---
Beth Anderson (M.F.A./M.A.) is a critically acclaimed composer of new romantic music, text-sound works, and musical theater. Born in Kentucky, she studied primarily in alifornia with John Cage, Terry Riley, Robert Ashley and Larry Austin at Mills College and U.C. Davis. She is a member of Broadcast Musicians Inc. (BMI), the American Composers' Forum, International Alliance of Women in Music, the American Music Center, the American Composers Alliance, and Poets and Writers. She is the current treasurer of New York Women Composers. She resides in New York City where she serves on the faculty of Greenwich House Music School.
Recordings of Beth Anderson's Music
CD Net Work, for piano solo (Mary Kathleen Earnst, pianist) and "Trio: dream in d" for violin, cello and piano (1998) on TWO BY THREE - MUSIC BY WOMEN, North South Recordings, available from Albany Distributors, (800)752-1951 and amazon.com
CD Minnesota Swale, (1995) on NEW MUSIC FOR ORCHESTRA, Opus One #CD156 (Box 604, Greenville, Maine), performed by Slovak Radio Symphony, conducted by Joel Eric Suben. NEW MUSIC FOR ORCHESTRA is available from Albany Distributors, (800) 752-1951 and amazon.com
CD Belgian Tango, (1993) on WHITE RABBIT, Newport Classic #NPD 85536, performed by The Tango Project (Mary Rowell, William Schimmel, Michael Sahl) currently out of print but soon to be re-released on Sony Classics.
LP "Revel" (1984) on PREMIERE RECORDINGS, Opus One #100 (Box 604, Greenville, Maine), performed by Richmond Sinfonia, conducted by Jacques Houtmann
LP "If I Were A Poet" on POESIA SONORA AMERICANA, 3 VI tre Pair's polypoetry record's first series, #3, 1983, performed by the composer; available from Enzo Minarelli, Via Cremonino 14, 44042 Cento, Italy
LP "Torero Piece" on 10+2=12 AMERICAN TEXT-SOUND PIECES, 1750 Arch Records #1752, performed by Marjorie and Beth Anderson; rare but available from
Pauline Oliveros Foundation Inc.
PO Box 1956
Kingston NY 12401-0900
Oliverosfd@aol.com
LP "I Can't Stand It" on SUGAR, ALCOHOL, 7 MEAT, Dial-A-Poem Poets LP edited by John Giorno, performed by the composer as a solo; out of print but possibly available from Pauline Oliveros Foundation Inc., PO Box 1956, Kingston, NY 12401-0900
LP "Yes Sir Ree" enclosed in a book entitled ED VOGELSANG-"VIEWS BESIDE..." edited by Fritz Balthaus; published Berlin 1982
45 rpm "I Can't Stand It" and "Ocean Motion Mildew Mind" a privately produced 45 performed by the composer and percussionist Wharton Tiers; out-of-print
Cassette "Poetry Music Quilts"-an anthology of my work from Widemouth Tapes in Baltimore, MD, 1983; includes a group of text-sound pieces performed by the composer, "Ode" a tape piece, "Shakuhachi Run" and "Preparation for the Dominant" performed by Andrew Bolotowsky; This is not out-of-print !
Cassette "If I Were A Poet" is anthologized in BLACK BOX 15, edited by Marc Wellman, 1977 and alternatively entitled "BREATHING SPACE/77", available from Watershed Foundation, Washington, D.C.; out-of-print
About Beth Anderson's Music
Beth Anderson's early work was considered post-Cagian, non-academic; but, more recently, her music has become more lyrical while retaining the cut-up quality of the minimalists. Many of her compositions have been recorded by various artists on different labels. Recently her "TRIO: dream in d" and "NET WORK" were released on Two by Three: Music by Women from North South Recordings. "BELGIAN TANGO", recorded by The Tango Project, is available on Newport Classics CDs. Opus One has released "REVEL", with the Richmond Symphony and "MINNESOTA SWALE" with the Slovak Symphony.
Her work has received numerous awards and grants including a National Endowment for the Arts grant for career development in music composition, a National Public Radio Satellite Program Development Fund grant for the development of a text-sound radio series entitled POETRY IS MUSIC, several Meet The Composer grants from the New York State Council on the Arts, a Foundation For the Contemporary Performance Arts grant, a National Federation of Music Clubs' Award of Merit for contributions to women in music, a P.S. One/Institute for Art and Urban Resources residency, a ZBS Media grant to support a residency/tape production, an Elizabeth Mills Crothers Award, a Biggerstaff Grant, and an Alumni Fellowship to support her graduate work at Mills College. She has been commisioned by the Minnesota Synfonia, the Staten Island Symphony, the Cabrillo Music Festival, the San Francisco Conservatory's New Music Ensemble, the University of the Redlands' New Music Ensemble, the Montclair College Dance Festival, Daniel McCusker & Dancers, and many others.
Ms. Anderson's publishers include E.M.I/Joshua Corporation/General Music. Most of her compositions are available from the compoers. Several catalogs include her music. The most complete catalog of her work is probably the New York Women Composers, Inc., catalog.
Ms. Anderson is included in many reference works, including The New Grove Dictionary Of American Music, The New Grove Dictionary Of Opera, The Popular Guide To Women In Music, Contemporary Composers, and The Pandora Guide To Women Composers-British And American. An extensive interview with her is included in the archives of the American Composers Oral History Project at Yale University.
Miscellany From The Dark Past:
Regarding my childhood, my grandmother could play by ear and she loved to hear me practice and would say after every piece, "That was pretty. Play that one again." She was a booster. I had two women piano teachers who encouraged me to compose--Margie Murphy and Helen Lipscomb. Helen was also a composer and we used part of my lessons for composition.
When I was in high school, I read John Cage's books and fell in love with the ideas and the excitement of the avant garde. My music, as a result, moved over to what has been called post-Cagian, non-academic. That lasted until about 1979 at which point I changed. My music is now quite lyrical, sometimes called neo-Romantic, and full of cut-ups/collage of newly composed materials. Since 1985 I have been composing mostly swales for various instrumental combinations.
A swale is a meadow or a marsh where there is nourishment and moisture and therefore, a rich diversity of plant life. My work, since 1984, has been made from swatches (of newly composed music, rather than found music) which are reminiscent of this diversity. When a horse named Swale won the Kentucky derby several years ago, I discovered the word and have used it extensively. "Pennyroyal Swale" and "Rosemary Swale" for string quartet, "Brass Swale" and" Saturday/Sunday Swale" for brass quintet, "Guitar Swale" for guitar duet," May Swale" for viola solo," Minnesota Swale" for orchestra, "New Mexico Swale" and "August Swale" for chamber ensemble, "Flute Swale", "Rhode Island Swale" for harpsichord, and the most recent, "Ghent Swale" for violin and piano.
---